September 21st, 2005 (07:01 pm)
Mood:: dorky
Im feeling much better after nearly a week of a having a cold! and it had nothing to do with me seeing the new Pride and Prejudice movie the other day! I really enjoyed the movie and thought that Keira and Matthew did Elizabeth and Darcy justice! However my applause goes to the actor who plays Mr Bingley! Simply Brilliant!
I have decided to create a new community dedicated to 'Men from Costume Dramas' Im not too sure when the community will be up, however I have already created a handful of icons which you can see below....
Teaser:
Talking about icons, one of my icons came first at the monthly Contest at
bbccostumedrama and I have this lovely banner to show for it!! :)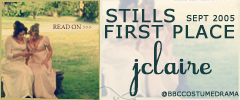 I now have to think of a theme for next months icon comp!! **think*think*think**
Oh and of course, everyone please make sure you watch The Golden Hour tonight on ITV! Show our support for Mr Armitage!!