February 12th, 2005 (02:00 pm)
Mood:: aggravated
Believe it or not I am still alive! I started my new job on monday and im already wanting out! The problem is I want to be college at least doing a few courses and im not able to do that :(
Anyway with that said! I hope that loads of people are taking part in the BBC Costume Drama icon contest! talking of contests, I came 2nd at the Depp Stillness Communtiry with the icon shown in the award I received below!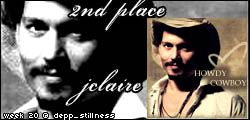 I think that my graphic skills are getting better! dont want to sound big-headed though!!
Hopefully I should have more time on the net soon to update some of my sites, and finish a Timeless Collection!! Oh and before I came seriously busy, I have opened a Draco/Hermione Icon Community so if you have any icons dedicated to them, then please add....